La Mirada Theatre Timeline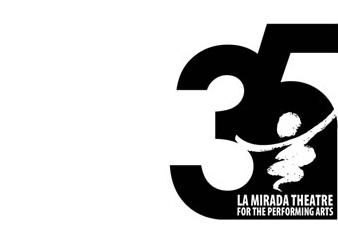 La Mirada Theatre wins the Ovation Award for Best Season (2012-2013)
Celebrating the 35th season
More than 3 million patrons have passed through the doors, attending more than 4,000 performances. Of course, none of these achievements would have been possible without the generosity and commitment of the citizens of La Mirada, California and the determined leadership necessary to save an outdated movie theater from the wrecking ball and convert it into a palace for the performing arts.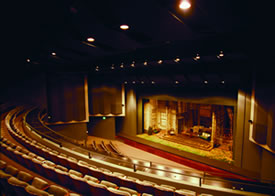 Brian Kite assumes the position of Producing Artistic Director and expands theatre programming to include Upright Cabaret, which transforms the beautiful lobby into an intimate Cabaret Lounge for performances featuring today's hottest Broadway stars and National Theatre Live which lights up the huge screen at La Mirada Theatre, reminiscent of its cinema days. The productions are filmed live in London and broadcast around the world to participating venues, giving audiences everywhere a chance to see the best of British theatre.
Second major renovation including carpet, tile, fireplace, south-side entrance canopy and loading dock realignment.
La Mirada Theatre Captures 11 Ovation Nominations, Second Highest of any Theatre in greater Los Angeles.
March Madness Special Events and Concert series begins, each year bringing the best of world-class entertainment to La Mirada's stage.
25 Year Anniversary – The Theatre celebrates it's 25th Anniversary with a special event, A Salute to Hollywood Songwriters, featuring Jeff Barry, Alan Bergman, Hal David, Lamont Dozier, Arthur Hamilton, Leiber & Stoller, Richard M. Sherman and many more.
A&E Television Network Premiere of Peter Pan, which was filmed at La Mirada Theatre, received 4 Emmy Award Nominations and one Emmy Award for Art Direction (John Iacovelli).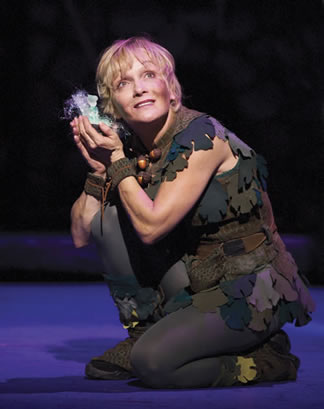 La Mirada Theatre is presented the Henry Reining Outstanding Organization Award for a public service organization that contributed significantly to the quality of life in the Los Angeles Area.
La Mirada Theatre hosts the Los Angeles Theatre League Alliance Ovation Awards with Sharon Lawrence and Alfred Molina and special presentations by Annette Bening and Carol Channing.
La Mirada Theatre undergoes significant renovation to its auditorium, restrooms, and lobby, which includes the addition of an elevator.
Peter Pan starring Cathy Rigby becomes the first La Mirada Theatre production to go on a two-year national tour and have an extended run on Broadway.
La Mirada Theatre earns an LA Ovation Award for Radio Gals (Best Musical, Large Theatre). Radio Gals also wins for Best Choreography (Patti Colombo).
Los Angeles Times calls La Mirada Theatre "one of the best Broadway-style houses in Southern California."
McCoy Rigby Entertainment begins its first season at La Mirada Theatre.
Jeff Brown assumes the position of Executive Director and recruits Tom McCoy and Cathy Rigby to produce the theatre's professional theatre series.
The new La Mirada Theatre Center is opened.
The La Mirada Outlet Mall surrounding the Theatre is demolished.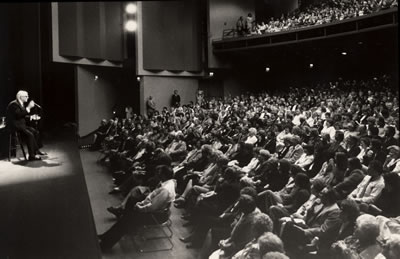 The City acquires 10,000 sq. ft. of warehouse space, and converts it into a scene shop and rehearsal space for use by the Broadway Series and the La Mirada Playhouse.
10 Year Anniversary – The Theatre holds a month-long Tenth Anniversary Celebration featuring a special performance by Hal Holbrook as Mark Twain, and A Salute to Broadway, presented by the La Mirada Symphony and the Whittier-La Mirada Light Opera.
Cary Grant makes a rare personal appearance at La Mirada Civic Theatre with A Conversation With Cary Grant: On Film and In Person. Mr. Grant thrills the packed house with stories from his life and career.
That's Singing: A Celebration of American Musical Comedy, a special event featuring Broadway stars Ethel Merman, Nell Carter, Debbie Reynolds, Jerry Orbach, Anthony Perkins, Chita Rivera, Barry Bostwick and more, is filmed live at La Mirada Theatre for cable television.
Independent regional arts organizations such as the Whittier-La Mirada Light Opera, La Mirada Playhouse, Cerritos College, La Mirada Junior Programs and the La Mirada Symphony as produce and present events at the La Mirada Theatre. Most of the visionaries that were responsible for the theatre's early successes no longer grace the stage… yet the dream of a thriving La Mirada Theatre is as vivid as ever.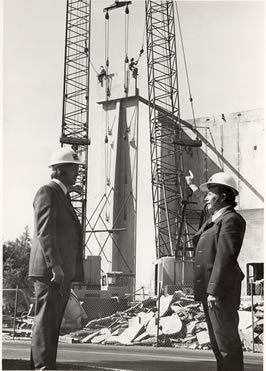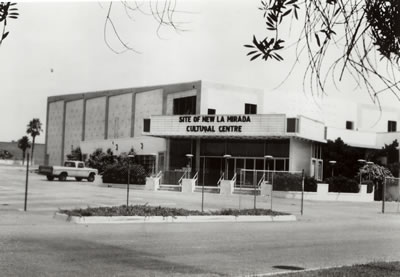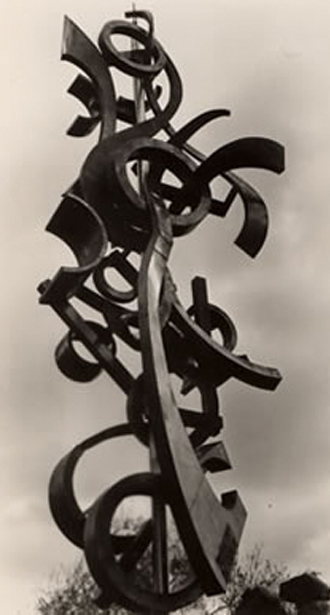 Dedication of Canto '79 – Internationally acclaimed artist Joseph Young creates a monumental theme sculpture for the La Mirada Theatre. The sculpture is an abstract, three-dimensional statement of music that is symbolic of the activities of the theatre. Twenty-eight feet high with and eight-foot diameter and weighing nearly two tons, Canto '79 sits atop a grassy knoll in front of the theatre and can be seen from multiple perspectives.
The first production of the Broadway Series is produced by Herb Rogers: The Effects of Gamma Rays on Man-in-the-Moon Marigolds starring Shelly Winters, The play transfers to Broadway's Biltmore Theatre after its run at La Mirada Theatre.
Grand Opening Gala Celebration – After years of serving the community as a movie house and long after its final screening, La Mirada Theatre reopened its doors and a City's vision was born. The celebration weekend featured performances by singer Tony Bennett and Les Brown & The Band of Renown and culminated in an Open House, which attracts thousands.
Friends of the La Mirada Theatre, a volunteer organization, is created by the City Council to support and enhance the theatre and its programming. The Friends provide volunteer ushers for performances and raise funds to bestow special gifts on the theatre.
The City Council hires Thomas Mitze as Executive Director of the Theatre and appoints residents as its inaugural Board of Directors. Groundbreaking of La Mirada Civic Theatre begins.
The City Council of La Mirada approves the redevelopment of an obsolete movie house into a performing arts theatre.