Programs for Young Audiences
JazzReach
YES INDEED!
featuring Metta Quintet
February 26, 2017 | 1pm & 3:30pm | $ 12 or buy Family Packs and Save!
Celebrating the Great American Blues Tradition!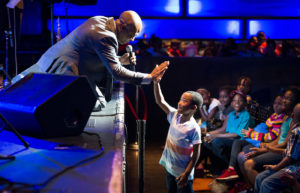 Experience live music with your kids! Jazz Reach's Yes Indeed! is their newest engaging, interactive, live music program that instills a greater appreciation, awareness and understanding of the great American Blues tradition. From R&B to Funk to Gospel to Rock to Hip Hop and particularly Jazz, the Blues are that vital, key ingredient that give these genres their distinct American sound and soulful depth and potency.
ALL OF JAZZREACH'S ARTISTIC PROGRAMMING IS CARRIED OUT EXCLUSIVELY BY THE ORGANIZATION'S CRITICALLY ACCLAIMED RESIDENT ENSEMBLE, METTA QUINTET.
A cohesive, tight-knit unit featuring some of today's most esteemed, creative artists, METTA QUINTET is fueled by a collective, open-minded musical curiosity and dedicated to exploring new artistic territory while maintaining a passionate commitment to arts education, fostering new audiences and nurturing young talent.
Through the commissioning of all-new works and the creation of immersive, live multi-media concert programs for the MAIN STAGE, METTA QUINTET is committed to challenging convention and expanding the boundaries of the live jazz experience.
The quintet released its critically acclaimed debut recording, Going to Meet The Man (Koch) in 2002 featuring eight commissioned works by the then-emerging, now-renowned composers, Brad Mehldau, Kurt Rosenwinkel, Mark Turner, Larry Goldings and George Colligan. All works were inspired by short stories by celebrated American author James Baldwin. In July 2006, Sunnyside Records released the quintet's second critically lauded CD Subway Songs, which features eight all-original commissioned compositions inspired by the sociological dynamism of the New York City Subway experience.
Tickets: $12
Flexible Family Packs available. The more you buy, the more you save.
Family 4-pack – $44 ($11 per ticket)
Family 8-pack – $80 ($10 per ticket)
Family 12-pack or more – ($9 per ticket)
To purchase Family Packs, please call the Box Office at 562.944.9801
Performances: Sunday, February 26, 2017 at 1pm & 3:30pm